Tragedy has hit Xitsonga music legend Penny Penny following the death of his mother. News broke on Thursday afternoon that the star's mother had passed on.
Kokwani as she was affectionately known and called by her family is believed to have passed on on Thursday morning. She had of late been frail and had ill-health due to her old age.
Kokwani became a darling of SA TV after she featured in Penny Penny's reality show. The show has just been renewed for another season and Papa Penny's mom won't be in new season.
It has been reported, Papa Penny Ahee has been renewed for a new season and is slated to air in 2022.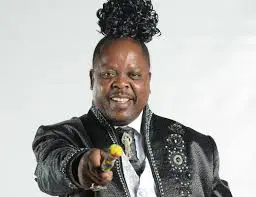 The Tsonga disco pioneer Penny Penny also lost his stepson Nicholas back in 2019.
The 23-year-old first born son of Papa Penny's wife, Mama Nomi, allegedly committed suicide on Thursday afternoon at Soshanguve train station, north of Pretoria. Nicholas, who had made a cameo appearance on Penny's popular reality TV show Papa Penny Ahee, lived with his grandparents in Soshanguve.